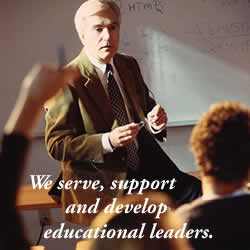 Contact Us
United School Administrators of Kansas
515 S. Kansas Ave., Suite 201
Topeka KS 66603-3415
Phone: 785.232.6566
FAX: 785.232.9776
[email protected]

---
Directions to United School Administrators of Kansas
Take I-70 into downtown Topeka.
If you're coming from the west, get off at Third Street and turn right. Drive two blocks to Kansas Avenue and turn left.
USA of Kansas is at 515 South Kansas Avenue, Suite 201. Park in the garage directly across the street (to the east) from 515 South Kansas Avenue. If you want to avoid climbing stairs, park on an odd numbered floor; the elevator does not stop on even numbered floors.
Take the elevator to the first floor; coming off the elevator, you'll walk straight ahead through a corridor to the lobby of the office tower. In the lobby, turn right and leave the building through the revolving doors.
Cross the street to 515 South Kansas Avenue. The lobby is just off an entryway set at an angle to the street; take this angled entryway. Then…
If you're going to the main offices, turn left into the lobby and take the elevator to the second floor. When you get off the elevator, turn right to go to Suite 201.
If you're going to the conference room, pass the lobby entrance and follow the angled hallway until you reach an open bridge. At the beginning of the bridge, there is a door on the right. Go in to this door. The conference room is through the first door on the left.

---
Meet the Staff
Jim Menze
[email protected]
Executive Director
M. Katharine Weickert
[email protected]
Director of Administrator Services
Kim Torrez
[email protected]
Office Manager
Mary Kay Hendrickson
[email protected]
Secretary/Bookkeeper
Sam Smith
[email protected]
Network Administrator