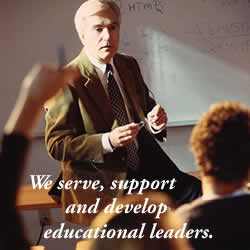 How To Advertise
MAKING THE MOST OF YOUR ADVERTISING DOLLAR
Each year, Kansas school administrators spend millions of dollars for goods and services for their districts. We invite you to target that audience by advertising at the USA convention and in USA's newsletter, The Memo.
To advertise at convention, see the link "how to exhibit at convention."
To advertise in USA's newsletter, see the rate specifications below.
click here to view a list of possible dates for mailing your advertisement with The Memo.
Please note, you must contact the USA to make arrangements.
Types of products USA members buy
USA has more than 2,000 members. They are responsible for buying such school necessities as computers, textbooks, fringe benefits, supplies and services, buses and other equipment, buildings, food services, and maintenance. USA members include superintendents, school business officials, principals, special education administrators, public relations specialists, curriculum consultants and vocational administrators.
Other advertising opportunities from USA
You can double the impact of your message by advertising in The Memo, then exhibiting your product at the annual USA convention in January. A coordinated campaign of Memo advertising, an exhibit at convention, and your personal contacts can be a highly successful marketing program. USA will send more information about convention next October.
Specifications and price for advertising
If you choose to advertise, you are responsible for providing the advertising pre-folded to fit a #10 envelope. The 2,200 brochures and the company check will need to arrive at the USA office at least seven days before the publication date. The Memo publishes 21 times a year.
Rates: $300 for one brochure per issue $500 for two brochures per issue (or ads larger than 8 1/2 x 11 before folding)
USA provides the envelopes, addresses, postage and labor for the mailing. No more than two advertisements will be included in one mailing and I will monitor those inserts so that competitive products or companies will not be included in the same mailing.
Whom to contact
If you are interested in advertising in The Memo, please call Katharine Weickert at 785.232.6566. You can build your business through contacts with Kansas school administrators by using USA's The Memo.