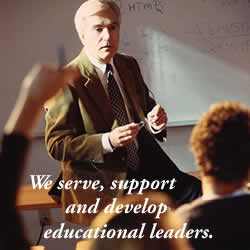 How To Exhibit
Exhibitors profited enormously from last year's USA convention! More than 150 exhibitors displays their products to nearly 1,000 school administrators from across the state of Kansas. We will again host a grand opening for the exhibits on Wednesday night from 5 p.m. to 7 p.m. and exhibits will be displayed from 7:30 a.m. to 2 p.m. Thursday. The grand opening includes food and drinks for convention-goers, and you are invited to conduct raffles for your products. We'll make sure winners–and the products you provide–are announced from the state in full view of all assembled.
For vendors who are interested in exhibiting at USA's convention, here are some details that will help as you prepare for the show:
Cost and Hospitality Suites
Booth space costs $400 for the first booth; $640 for two booths; and $270 for each additional booth beyond two booths. Exhibit spaces will be allocated on a first-come, first-served basis, except for those vendors who are USA affiliate members. Vendor affiliates of USA will have first choice of convention booth spaces. Information is available explaining the USA affiliate membership to vendors. Also, only those vendors exhibiting at the convention will have the option of obtaining a hospitality suite. Since hospitality suites will be allocated on an exhibitor preference basis, requests must be cleared through the USA office before contacting hotels.
Booth Assignments
Assignment of booth space will begin in early December according to the following criteria:
1st assignment: Affiliate members who have exhibited at past USA conventions.
2nd assignment: Affiliate members.
3rd assignment: First come, first assigned.
Large Vehicle Display
If you exhibit a bus or other large vehicle, you have two options for display:
Purchase a regular 8′ by 10′ booth and park the vehicle outside on Kennedy Plaza
Park inside Convention and Exhibition Halls according to these charges:
| | | |
| --- | --- | --- |
| Charge | Passenger Number | Bus Size |
| $875 | 65-71 passengers | 38-42 ft long |
| $675 | 48 passengers | 26 ft long |
| $475 | 22 passengers | 11-20 ft long |
Booth Data
All booths are 8′ by 10′ and will be draped, side and back. Each booth will have one 6′ draped table with 2 chairs. One promotional sign will be provided to each exhibitor without charge. In order to prevent interference with adjoining booths, no signs or equipment shall extend beyond the sides of the booth. Additional equipment, including extra chairs, tables, carpet is available from Helgerson Convention Decorators. Ask for Randy Metcalf, 316.943.1851.
Electricity
Electrical service will be available only if requested from Century II. A request form for electricity will be provided when booth space is reserved.
Set-Up Times
Booths may be set up from 10 a.m. to 4 p.m. Wednesday and removed Thursday after 4 p.m. If you have questions about set-up or removal, call Kim Torrez or Jim Menze, 785.232.6566
Shipping Data
Exhibit material shipped to Wichita prior to the convention may be stored with Southwest Transfer and Storage (316.264.8381) or Thomas Transfer and Storage (800.835.3300). Exhibitors should have someone available in Century II to receive materials from the storage companies upon arrival. Pre-convention storage will be at the expense of the exhibitor. Exhibitor materials will not be stored by Century II prior to the show.
Delivery of Exhibit Materials
The basement area of Century II has been designated for deliveries of exhibit materials the day of the show. Exhibitors should unload their materials near the freight elevator and take them on the elevator to the Convention Hall. Once exhibit materials are unloaded, a security guard in the basement will watch the materials until the delivery vehicle is removed to the outside parking area. Parking for extended periods of time is not permitted in the basement or on Kennedy Plaza.
Security
Security will be provided by USA from 10 a.m. Wednesday to 5 p.m. Thursday.
Unoccupied space
If an exhibitor fails to occupy contracted space or fails to comply in any other respect with the exhibit regulations, association officials have the right to lease such space to any other applicant without refund to the exhibitor.
Liability
Neither the association nor any of its representatives will be responsible for any injury, loss or damage that may occur to the exhibitor, the exhibitor's employees, or property from any cause whatsoever prior, during or subsequent to the the convention.
USA Representative
Questions regarding these instructions should be directed to Kim Torrez or Jim Menze, 785.232.6566 .